We embrace and appreciate the opportunity to care for your loved one.
Rehabilitation Services
Our goal is to return each patient to his or her highest level of function.  Individual programs are tailored to include goals that will ensure appropriate functional skills can be identified, learned, safety implemented and reinforced.  Our Therapy Program provides a therapeutic, holistic approach that meets the highest standard of quality in the most cost effective manner.  We specialize in treating a range of diagnoses from orthopedic and stroke recovery to more medically complex patients including IV Therapy, Wound Care, Tracheostomy Care and much more.
Short-term rehabilitation is a sometimes necessary transition after a hospital stay following surgery, accident or illness that prepares a patient to get back to their highest level of independence.
Skilled Nursing Facilities are regulated and certified by the state and federal government.  They must also meet certain state and local regulations.  Staying at these facilities is covered by Medicare and Co-Insurance for up to 100 days.
The staff include registered nurses, licensed vocational nurses, speech pathologists, physical therapists, occupational therapists, audiologists, a medical director and other specialized medical staff.
Some of the conditions that may require care at a skilled nursing facility include stroke, surgery, acute illness, infection and general wound care.  These conditions may require physical therapy, administration of antibiotics, intravenous injections of medication or other medical care.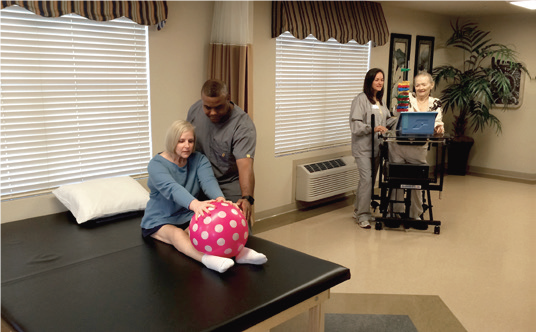 Our dynamic Therapy Team will have you "Back on Your Feet" in no time.